Many organizations utilize employee surveys as a way to solicit feedback and improve their employee engagement.
But quite a few we speak to struggle with survey design, low response rates and gleaning actionable insights from the results.
To help, we'll look at how to approach employee surveys, some powerful questions, and some tools to help conduct more useful surveys.
Key Takeaways
The objective, length, frequency, style, tone and how you communicate results have a big impact on survey engagement.
Prompting employees with statements as well as questions will garner better feedback.
The right survey tool can drastically improve the cost, ease of use and quality of your employee surveys.
What is an employee survey and why conduct them?
An employee survey is a method of gathering feedback from team members related to a specific aspect of their workplace experience.
When conducted effectively, employee surveys are useful tools that help HR professionals and management implement positive changes in the organization.
When combined with metrics like employee turnover, and data from feedback methods such as stay interviews, exit interviews, skip levels and 1:1 meetings, surveys are a great way to help paint a picture of the different facets of the employee experience.
For example, American Express utilized employee surveys to implement and optimize their successful hybrid work strategy, Amex Flex.
Types of employee surveys with Example Questions
Employee surveys come in many different flavors, each seeking to measure different aspects of the workplace experience. In reality, you can survey someone about pretty much anything, but below we've briefly outlined the most common types.
Candidate surveys
An efficient hiring process is key to landing top talent so many recruitment teams utilize candidate surveys to hone this process by collecting feedback on elements such as outreach methods, application forms and interviews.
Examples of candidate survey questions
The interview process was efficient and respectful of my time.
The expectations for the role were made clear to me.
The advertised job description matched what was presented to me during the interview process.
My interviewers were well prepared.
What do you think would make our hiring process better?
Onboarding survey
Onboarding is a crucial yet often overlooked step in the employee life cycle. A good onboarding experience is correlated to an 82% improvement in employee retention, according to a study by Glassdoor.
Onboarding surveys capture data around how welcomed and included someone felt, how clear they are about their role and responsibilities and if they had everything they needed to get productive quickly.
Examples of onboarding survey questions
I have access to the resources and tools I need to do my best work.
I have received enough training to perform my role effectively.
I feel that I am given the information I need to perform my role effectively.
I understand how my role supports the company's mission.
My goals and deliverables are clear to me.
I feel that my current role aligns with my career goals.
Do you have any suggestions for improving the onboarding process?
Employee engagement survey
These surveys are designed to assess how engaged someone is, i.e. the level of mental and emotional commitment they have for your organization and the work they do.
Examples of employee engagement survey questions
I feel excited and motivated to come to work.
I clearly understand my role and responsibilities.
I understand how my work contributes to the overall success of the organization.
I feel included in the organization and am comfortable voicing opinions and making suggestions.
I believe there are good career opportunities for me here.
I feel like my workload is manageable and work rarely impacts on non-work commitments.
I feel supported in my professional development.
I feel like I'm fairly compensated for my work.
I feel strongly aligned to the organization's vision, mission and values.
I would recommend [X Company] as a great place to work to relatives and friends.
Workplace culture survey
The aim of a culture survey is to gain a better understanding of the social dynamics at play in the workplace, with the intent to minimize toxicity and create a more welcoming and inclusive work culture for everyone.
A company culture survey prioritizes questions around topics like team dynamics; leadership styles; fairness and accountability; ways of working; recognition; accessibility and inclusion; workload manageability; company values and policies; transparency; and other areas where work where company identity and social dynamics intersect.
Examples of workplace culture survey questions
I feel that my work is valued.
Good work is recognized and celebrated.
I receive meaningful feedback.
I receive constructive feedback at regular intervals.
I feel that employees are treated fairly at this company.
I feel that my opinions are valued in the workplace.
When organizational changes are made, I feel that the reasons for these changes are communicated effectively.
If you could change one thing about the organization, what would it be?
I feel that the company lives up to its values.
My manager makes me feel inspired and motivated.
Employee compensation and benefits survey
When combined with data such as utilization rates, surveys are a great way to get insights into how your employees feel about their compensation and benefits packages.
They can help you identify whether there are specific perks or benefits they want to see implemented or specific employee needs that are going unmet.
Examples of compensation and benefit survey questions
I am satisfied with the benefits I am receiving.
I feel that I am fairly compensated for my work.
Which benefits and perks would you like us to introduce?
I feel that performance reviews are clear.
I feel that performance reviews are accurate.
Professional development survey
The goal of a professional development survey is to gain a deeper understanding of the impact of your current training and learning and development programs.
It can also give you insight into the types of training and further education your employees would like—even specific courses and training they're already interested in.
Examples of professional development survey questions
I feel that I am growing professionally in this role.
I feel challenged by my work.
I see opportunities for career growth at this company.
I feel that my skills are being utilized effectively.
I feel that I am given the support I need to do my job well.
I feel that I have ownership over my work.
My team's goals and deliverables are clear to the whole team.
Tips For More Effective Surveys
Here are our top tips for conducting more effective employee surveys:
Have a clear objective. Think carefully about what you want to achieve with a survey. What are you hoping to measure? Define success. This will make it easier to design your survey and questions to yield the information you need.
Consider the type (or types) of question and response you'll use. Will you ask open-ended questions? Will you use a rating system or sliding scale (strongly agree, agree, neutral, disagree, strongly disagree)?
Clearly communicate the why behind the survey. People are much more likely to respond, and be more engaged in the process, if they understand the reason behind the survey and how it can benefit them.
Consider anonymity for more honest feedback. If employees believe that their responses will be tracked back to them, they may fear reprisals for giving frank answers.
Compare departments against one another and track the outcomes over time. This can help you to identify problem areas like bad managers if employee satisfaction differs dramatically between departments.
Keep it short. A rule of thumb is that your survey can be completed in 20 minutes or less.
Frequency matters. Using more regular "pulse surveys" will give you fresher data than only conducting the customary annual survey.
The way you ask questions matters. Beware of using emotive language or phrasing that could influence or bias the respondent's answer.
Numbers can be better than words. A response scale that uses numbers at regularly spaced intervals allows survey respondents to give a "score". Plus, this means your data is more quantifiable.
Ask questions about specific, observable behavior. Asking employees to give their opinion on a peer or manager's thoughts or motives is asking for trouble.
Don't try to kill two birds with one stone. Avoid referring to two subjects within the same question, as this can lead to confusion and inaccurate answers.
Don't try to cover everything at once. Conduct shorter/smaller surveys along topic lines.
Ask questions that are easy to answer. If you would have trouble answering the question yourself, it's probably a good idea to rephrase it.
Avoid words and phrases with strong associations. While metaphors play a significant role in the way we describe experiences and people, they can also trigger associations that bias survey responses.
Use consistency to your advantage. Try to design survey sections to contain a similar number of items and design questions to have a similar number of words.
Vary your questions by desired answers. When every question in a section has a desired positive answer, it's easy for employees to breeze through the questions without engaging with them. Change it up in roughly one-third of the questions.
Include "not applicable" or "I don't know" response options. Without that option, respondents may feel compelled to provide answers that they know are worthless.
Where you put demographic questions matters. In employee surveys, place such questions right at the end.
Skip a step with employee survey templates. There are plenty of excellent survey resources and templates informed by behavioral science methodologies available online.
Don't incentivize surveys with money or perks. The reward should be intrinsic to the intent of the survey: a better workplace.
Re-run the same survey after a while. Conducting the same survey at intervals after implementing changes allows you to measure the impact of the changes you've made.
Acknowledge findings and communicate actions. This will help get buy-in for any changes and demonstrate that surveys are worth the effort on the part of the team member.
Employee survey tools
As mentioned, there are a variety of tools and templates available to make running employee surveys easier. Here are a few employee survey tools to consider.
The table below provides a quick breakdown of some notable tools which we'll detail further.
| Tool | Cost | Integrations | Survey Types | Additional Info |
| --- | --- | --- | --- | --- |
| Google Forms | Free | Google Sheets | Customizable surveys | - Compatible with any device<br>- Customizable design<br>- Automatic visual reports<br>- Robust data protection |
| SurveyMonkey | Paid | Not specified | Employee engagement, market research, customer experience | - Specialized tool for employee engagement (SurveyMonkey Engage)<br>- High data privacy standards |
| Sparkbay | Not specified | Not specified | Pulse surveys (engagement, retention, change management, D&I, remote teams) | - Automated feedback collection<br>- Science-backed questions<br>- Questions available in 9 languages |
| QuestionPro | Paid | Tableau, Salesforce, Microsoft Dynamics, and others | Various (market, academic research, customer experience, workforce) | - Over 250 customizable templates<br>- Supports more than 100 languages<br>- Robust data and analytics integration |
Google Forms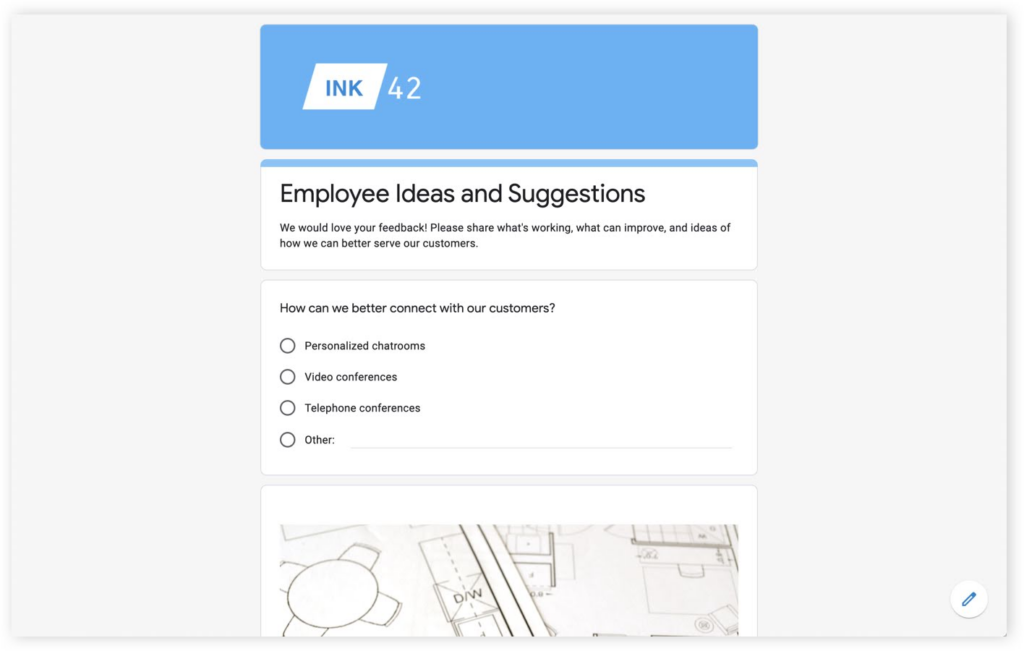 Google Forms can be used to create surveys for any purpose and do it on the go as it's compatible with any device — mobile, tablet, or desktop. This also means respondents can access your surveys and complete them from wherever they are.
You can customize your survey's colors, fonts, images and more to reflect your brand's look and feel. You can also create custom logic that tailors questions based on previous answers.
Google Forms automatically generates visual reports based on survey responses, and you can also opt to send the data to a Google Sheet to apply your own analysis or automation.
As for security, Forms follows the same privacy commitments and data protections as the rest of Google Cloud's enterprise services.
SurveyMonkey
SurveyMonkey is another popular survey tool that's often used for market research, customer experience evaluations and various employee satisfaction surveys.
It has a specialized tool for employee engagement surveys called SurveyMonkey Engage, which comes with prebuilt surveys and automated deployments to take the admin out of employee feedback.
SurveyMonkey's templated questions are rooted in social science and take a "whole-person approach to understanding your employees' relationship with the workplace."
SurveyMonkey boasts high data privacy standards, with security backed by encryption, SSO-, SSAE-16-, and SOC II-compliant data centers. It's also HIPAA- and GDPR-compliant.
Sparkbay
Sparkbay is an employee engagement platform that offers a variety of different pulse survey programs, covering areas including employee engagement, employee retention, change management, diversity and inclusion and remote teams.
Sparkbay automatically collects employee feedback via pulse surveys conducted at regular intervals (70% of customers reportedly opt for monthly surveys).
Sparkbay's questions are science-backed and the platform offers a wide range of customization options, such as targeting specific groups of employees with tailored question-sets, personalized benchmarks, turnover prediction, heat mapping and other useful analytics and response functions.
Sparkbay's survey questions are currently available in 9 languages, namely English, French, Spanish, Portuguese, Italian, German, Dutch, Hindi, and Thai.
QuestionPro
QuestionPro is a survey software that caters to everyone from beginners to experts.
QuestionPro users can add multiple question types and access more than 88 features, plus a library of more than 250 customizable professional survey templates which they can personalize surveys with their branding.
Users can apply logic to their online surveys with point-and-click logic to easily create survey branches, skip logic, text piping, survey looping, extractions and randomization.
QuestionPro also supports survey data and analytics integration with tools like Tableau, Salesforce, Microsoft Dynamics and a number of other leading platforms, and its API gives you absolute control over your data.
Compare Survey Tools: 10 Best Employee Survey Tools for Better Employee Feedback
Employee Surveys Provide the Gift of Feedback
No two businesses are the same, which means that every business's survey results—and the action needed in response—will look different.
What is certain is that a well-conducted survey can help you create a healthier, more productive organization and increase employee retention and engagement.
As we talk about a lot in this publication, feedback is gift, so human resources, leadership, and individual contributors should always be on the lookout for ways to gather it and give feedback.
How Much Does an Employee Survey Cost?
How to choose an employee survey tool
How do I measure employee engagement?